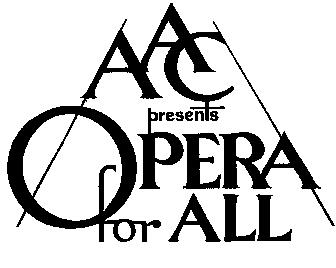 Welcome to our Website!
This Website was last updated
20 October 2015
AAC presents Opera for All performs fully-staged, ensemble operas in English accompanied by a small orchestra, using a mixture of talented amateurs and music students as well as professional and semi-professional singers, drawn from many different nationalities, ethnic groups and generations.
Photo Album 1 The Marriage of Figaro Photo Album 2 The Coronation of Poppea
Photo Album 03 A Dinner Engagement
Photo Album 04 Amahl and the Night Visitors Photo Album 05 The Magic Flute 1999
Photo Album 7 Carmen Photo Album 8 Dido and Aeneas Photo Album 9 Kinneret
Photo Album 10 (Don Giovanni) Photo Album 11 Susannah
Photo Album 12 The Beggar's Opera Photo Album 13 The Magic Flute 2002
Photo Album 14 Eugene Onegin Photo Album 15 Carmen 2004
We are a shop-window for young singers and musicians to advance their careers and our Singers, Musical Directors and Directors have gone on to companies such as English National Opera, Scottish Opera, Welsh National Opera, Opera 80, Opera North and even to the finals of the Cardiff Singer of the world!
Please make sure that you take a look at the other pages on our Website.

Company Details about our Company

Next Opera To be advised (See the cast of Polly)

Past Operas Program cover pages from our productions

Photo Album 1 The Marriage of Figaro (Click on the Opera)

Photo Album 2 The Coronation of Poppea (Click on the Opera)

Photo Album 3 A Dinner Engagement (Click on the Opera)

Photo Album 4 Amahl and the Night Visitors (Click on the Opera)

Photo Album 5 The Magic Flute 1999 (Click on the Opera)

Photo Album 6 Falstaff (Click on the Opera)

Photo Album 7 Carmen (Click on the Opera)

Photo Album 8 Dido and Aeneas (Click on the Opera)

Photo Album 9 Kinneret (Click on the Opera)

Photo Album 10 Don Giovanni (Click on the Opera)

Photo Album 11 Susannah (Click on the Opera)

Photo Album 12 The Beggar's Opera (Click on the Opera)

Photo Album 13 The Magic Flute 2002 (Click on the Opera)

Photo Album 14 Eugene Onegin (Click on the Opera)

Photo Album 15 Carmen (Click on the Opera)

Photo Album 16 Polly (Click on the Opera)

AAC presents Opera for All recommends Bapty 2000 Ltd.

Click on this

The Independent

Review of Polly

(3 January 2005)

"And a large and friendly audience seemed more than happy to have caught up with a jolly missing link in the history of English Musical Theatre"

Bayan Northcott

The Times

review of Polly

(4 January 2005)

"AAC Opera for All. The Brent-based company, with its base in Neasden and their hearts in La Scala"

Neil Fisher