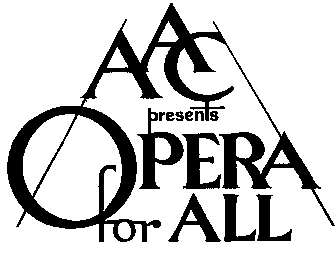 SUSANNAH
(CARLISLE FLOYD)
Scenes from our November 2001 production and Opera Magazine Review
These pictures take a little while to load, but they're worth the wait!
Click on the 'Thumbnail' and see the Full Size Picture
Extract of the Review by NIck Kimberley in Opera Magazine (February 2002 Issue)
Like all such companies, Opera for All would no doubt find a shoestring budget quite generous, but this was a genuine, albeit minimal, staging.
The dramatic kernel of the opera lies in Susannah's encounter with Olin Blitch (oh frabjous name!), the charismatic preacher who entrances, then seduces her. I saw the first of two casts, in which Ewan Taylor, moustachioed and brilliantined, captured nicely Blitch's TV preacherish mix of hellfire and unctuousness, as well as the self-pitying, post-coital remorse that grips the man
As for Lecia Robertson's Susannah, it was a full-scale realization of the part. She is not the only soprano whose voice spreads a little under pressure, but many more illustrious singers could learn from her carefully understated way of carrying herself. As with many soprano roles, modern taste finds the character too sweet to be true, but Robertson invested it with real emotion and not a little ingenue eroticism. She also, like most of the cast, had a reasonably convincing American accent. On Kent Nagano's recording of the opera (Virgin Classics), even the American singers exaggerate their accents, as if in a village-hall production of some corny musical. No such problem here.
The theatre (part of the College of North West London) has no pit, so the layout had singers facing the orchestra, with the audience seated either side. This created a space within which the characters seemed not to be addressing us, but each other, a situation skilfully exploited by Iqbal Khan's direction.
Susannah Polk (Lecia Robertson)
Susannah Polk (Lori Isley-Lynn)
Olin Blitch (Ewan Taylor)
Olin Blitch (Paul Hodges)
Sam Polk (Harrison Sykes)
Susannah Polk and Sam Polk (Lecia Robertson and Geoffrey Strum)
Susannah Polk and Sam Polk (Lori Isley-Lynn and Harrison Sykes)

Susannah Polk and Olin Blitch at the Church (Lecia Robertson and Ewan Taylor)
Olin Blitch seduces Susannah (Ewan Taylor and Lecia Robertson)

Olin Blitch seduces Susannah (Paul Hodges and Lori Isley-Lynn)
Susannah Polk and Little Bat McLean (Lecia Robertson and Anthony Battrick)
Susannah Polk and Little Bat McLean (Lori Isley-Lynn and Anthony Battrick)
Olin Blitch meets the Elders in the Church (Ewan Taylor)

Elder McLean Talks to Olin Blitch about Susannah (Martin Chapple and Ewan Taylor
Olin Blitch with the Elders in the Church (Ewan Taylor)
Olin Blitch with the Elders in the Church (Paul Hodges)
A Church Member and Mrs Gleaton (Brigit Eichenberger and Anna Roberts)

Susannah Polk dances with the Elders and Olin Blitch (Lecia Robertson and Ewan Taylor)
Susannah Polk dances with the Elders and Olin Blitch (Lori Isley-Lynn and Paul Hodges)
Elder Hayes and Elder McLean (Jon Meredith and Martin Chapple)

Elder Gleaton and Elder Ott (Alexander Hayes and Lance Ritchie)

Elder Gleaton (Alexander Hayes)

Olin Blitch with Mrs. Gleaton (Ewan Taylor and Anna Roberts)

Olin Blitch with Mrs. Gleaton (Paul Hodges and Beth Weyman)

Mrs. Gleaton with the Elders (Anna Roberts)

Mrs. Ott, Mrs McLean, Mrs. Hayes and Mrs. Gleaton look on and disapprove
(Kate Albert, Carolyn Filak-Royan, Arlene Conway and Anna Roberts)

Mrs. Ott, Mrs McLean, Mrs. Hayes look on and disapprove
(Sylvia Park, Annette Dumville and Patrizia Dina)

Mrs Gleaton prepares to join Mrs. Ott, Mrs. Mclean and Mrs. Hayes whilst they gossip about Susannah
(Anna Roberts, Kate Albert, Carolyn Filak-Royan and Arlene Conway)

Mrs. Ott, Mrs. Gleaton and Mrs. Hayes gossip about Susannah
(Kate Albert, Anna Roberts and Arlene Conway)

Mrs. Mclean, Mrs. Gleaton and Mrs. Hayes gossip about Susannah
(Annette Dumville, Beth Weyman and Patrizia Dina)


Mrs. Mclean
(Carolyn Filak-Royan)

Mrs. Gleaton
(Beth Weyman)

Mrs. Ott and Mrs. Hayes whisper in front of Olin Blitch
(Kate Albert, Arlene Conway and Ewan Taylor)
Home Page The Company Past Operas
Photo Album 1 The Marriage of Figaro Photo Album 2 The Coronation of Poppea Photo Album 3 A Dinner Engagement
Photo Album 04 Amahl and the Night Visitors Photo Album 05 The Magic Flute 1999 Photo Album 6 Falstaff
Photo Album 7 Carmen Photo Album 8 Dido and Aeneas Photo Album 9 Kinneret
Photo Album 10 (Don Giovanni) Photo Album 12 The Beggar's Opera
Photo Album 13 The Magic Flute 2002 Photo Album 14 Eugene Onegin
Photo Album 15 Carmen 2004 Photo Album 16 Polly